HEALT AND ENVIRONMENTAL IMPACTS
Green Feeding
Green Feeding means healthy and sustainable Food. Green Feeding starts with Breastfeeding which has a positive impact on our climate and environment.
Infant And Young Child Feeding – Health And Environmental Impacts
IBFAN emphasises that breastfeeding is the norm: it is the gold standard and protects the health of all infants everywhere, especially during this vulnerable stage of early child development. Artificial feeding using breastmilk substitutes and feeding bottles and teats (nipples) is a deviation from this norm. It can involve serious health risks and extra precautions should be taken when preparing, storing and handling feeds and selecting feeding utensils.
IBFAN works to provide information to mothers, parents and care givers   so that they can make informed decisions in infant and young child feeding, and to inform parents and caregivers about potential risks in artificial feeding.
IBFAN does not provide individual advice and counselling about methods of artificial feeding, nor do we ever recommend products. Parents should ensure that they take impartial advice from health care providers who are independent of the baby food industry.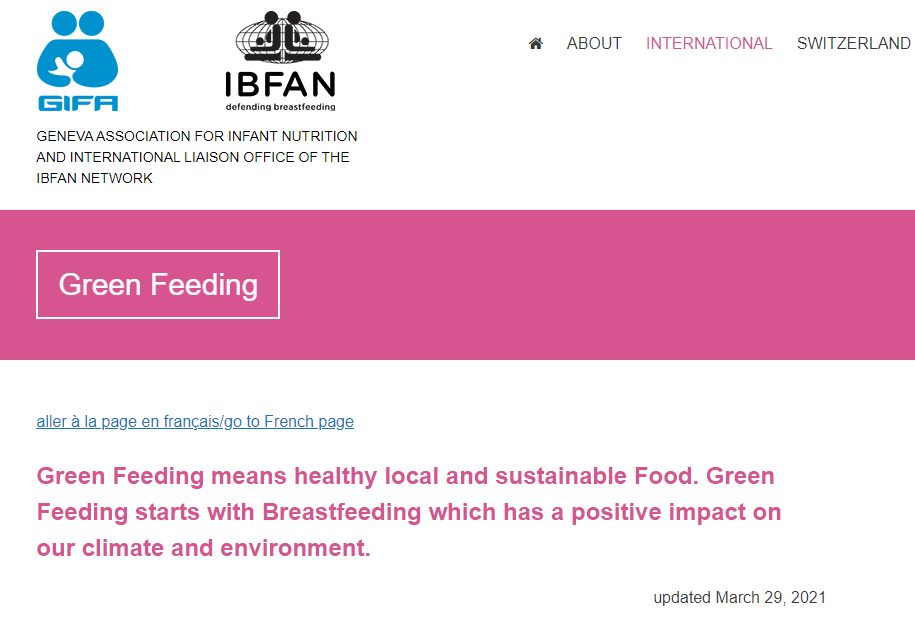 Climate Emergency – Green Feeding for Climate Action
Four advocacy documents were prepared for groups and policy makers in time for the World Health Assembly in May 2019, for the European elections, and for related events in Canada. They  aim to provide information about Green Feeding to encourage all actors in the movement for climate action, the public, students, politicians, and decision-makers, to include Green Feeding in their priorities and integrate Green Feeding into their policies.
Green Feeding means feeding our children from birth in sustainable ways that safeguard human health, the environment and all of life on our planet, Mother Earth.
Green Feeding promotes, protects and supports exclusive breastfeeding from birth to six months of age and continued breastfeeding to two years and beyond. Breastfeeding contributes substantially to the reduction of Green House Gasses (GHG) and to water conservation; is a natural and renewable food, environmentally safe, produced and provided without pollution, unnecessary packaging and no waste.
Green Feeding is introducing complementary foods after six months of age that are safe, nutritious, culturally appropriate, locally grown and produced in a sustainable way.