In Loving Memory of Dr. Héctor Martínez from IBFAN all over the world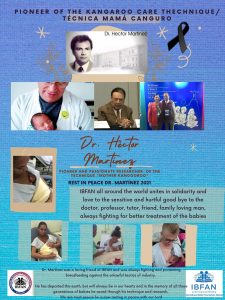 Industry inspired 'Call to Action' gives companies a 10-year-licence to harm children.
July 2020
Online launch of the Evaluation Report of the
World Breastfeeding Trends Initiative (WBTi)
in Mobilising National Actions on Breastfeeding and IYCF
MAKING A DIFFERENCE
Press Release

highlights the contamination of baby formulas and foods from microbes, insect parts, pesticides, heavy metals, melamine, packaging leakage and additives. It also points to the weaknesses in Codex Alimentarius standards, where the permitted levels of ingredients is based not on independent and convincing evidence but on political consensus and claims of "history of safe use".  IBFAN calls for laws to end predatory marketing and ensure that food safety and monitoring and enforcement systems are free of commercial influence.  
The International Baby Food Action Network, IBFAN, consists of public interest groups working around the world to reduce infant and young child morbidity and mortality. IBFAN aims to improve the health and
well-being of babies and young children, their mothers and their families through the protection, promotion
and support of breastfeeding and optimal infant feeding practices. IBFAN works for universal and full implementation of the International Code and Resolutions.
The formation of IBFAN
IBFAN is one of the longest-surviving single-issue organisations. IBFAN was founded on October 12th, 1979 after the joint meeting of WHO and UNICEF on Infant and Young Child Feeding.
One of the founding members stated:
"IBFAN… will provide an international framework for the continuation of our work. It will allow us to continue our vigilance and provide the focus for citizen participation. It will enable us to follow up the recommendations of this meeting – to spread new perspectives gained and to monitor compliance (with the International Code)."
The International Code
The groups that formed IBFAN were instrumental in putting the marketing of baby foods onto the health agenda, resulting in the 1979 meeting referred to above. IBFAN then campaigned for a strong and effective marketing code. The International Code of Marketing of Breastmilk Substitutes was adopted by the World Health Assembly in 1981. Through continued vigilance, new marketing strategies and developments
in thinking on infant nutrition have been brought to the attention of delegates at the World Health
Assembly leading to the adoption of further Resolutions which aim to protect infant health and mothers rights.
A global action network
IBFAN is an International Network. Structured like a net, it encompasses the Earth. Groups are diverse: they may work on infant feeding issues alone, or they may be mother support groups, consumer associations, development organisations or citizens rights groups. Some are staffed by volunteers, some have full time staff. What all groups have in common is they take Action to bring about implementation of the International Code and the subsequent, relevant Resolutions of the World Health Assembly. These are the main tools that IBFAN uses with the aim of ensuring that the marketing of baby food does not have a negative impact on health.
COVID-19
IBFAN will work through programmes designed for increasing its outreach by building alliances, protecting people from baby food corporations' misleading propaganda, advocating with governments to hold the baby food corporations accountable, providing technical and planning support to governments, campaigning, training and capacity building. IBFAN is a watch-dog organization, monitoring the compliance with the International Code of Marketing of Breast-Milk Substitutes, and subsequent relevant World Health Assembly resolutions, as well as highlighting conflict of interests in policies and programmes both globally and nationally.